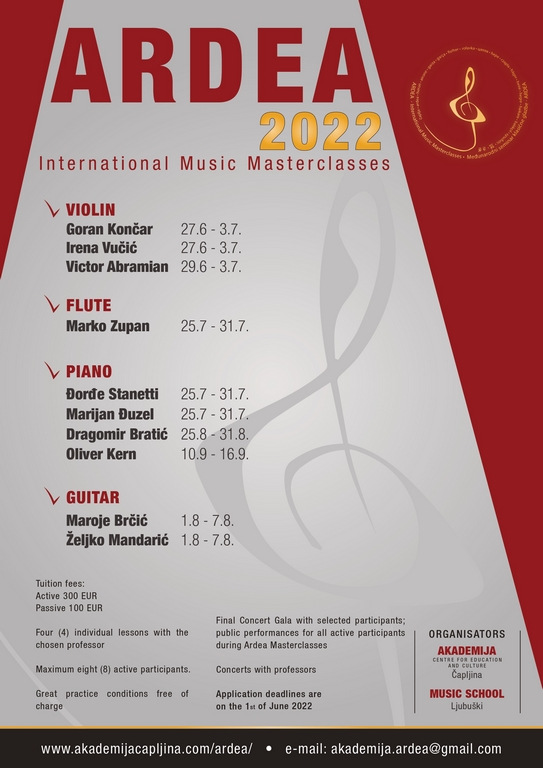 ENGLISH | International Music Masterclasses ARDEA 2022
For the sixth year in a row, the Center for Education and Culture ACADEMY Čapljina in partnership with the Music School Ljubuški organizes the International Masterclass of Classical Music ARDEA for students of piano, guitar, violin and flute.
Working with top musicians and excellent pedagogues, young musicians have a unique opportunity to improve their musical knowledge and musicianship. The results of the ARDEA masterclass so far are truly amazing. Participants of the ARDEA masterclass, who come from various parts of the world, have only words of praise for the organization as well as the conditions and quality of work.
Despite the objective difficulties, we try to maintain the continuity of the ARDEA masterclass and improve the programme. We are bringing in new renowned professors, and from this year we are also introducing competitions as part of the ARDEA masterclass, with awards. You can find more about our programme on our website (https://akademijacapljina.com).
We are the only in Bosnia and Herzegovina who take care of young musicians in this way and offer work with the best professors under the best and prime conditions. At the same time, the participants have the opportunity to perform independently and to listen to top concerts.
ARDEA masterclass is also known for the excellent atmosphere that prevails between students, professors and organizers. Everything functions as one big musical family. Masterclass offers opportunities for new acquaintances, healthy socializing, staying in pure nature, visiting historical and cultural monuments, going to Medjugorje and Mostar, spiritual and physical recreation, rafting, safaris, swimming, paragliding, cycling and various other activities.
ARDEA masterclass is a real opportunity for young musicians to spend an unforgettable 7 days in the best way. An opportunity like this is really not to be missed!
Online applications are open until June 1, 2022 and you can apply by filling out the form at this link.
Contact information:
akademija.capljina@tel.net.ba
mobile phone number: ++387 63 321 893
All other information and the application form are available on our website www.akademijacapljina.com.