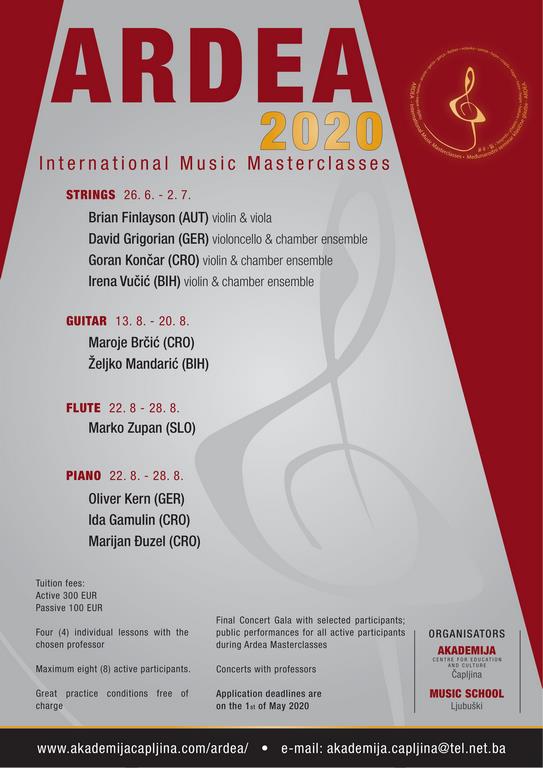 ENGLISH | International Music Masterclasses ARDEA 2020
Centre for Education and Culture AKADEMIJA Čapljina and MUSIC SCHOOL Ljubuški organise the International Music Masterclasses ARDEA which will be held from June 26 to August 28 2020 (Čapljina and Ljubuški/ Bosnia and Herzegovina).
This is a chance for all talented musicians, not only from Bosnia and Herzegovina but also from other countries, to improve their musical knowledge by working with excellent professors and to make new friends.
After wonderful experiences (2017, 2018 and 2019) and positive reactions of all participants, we are now organising the ARDEA 2020 with a more diverse offer.
In addition to the strings (Brian Finlayson, David Grigorian, Goran Končar and Irena Vučić), guitar (Maroje Brčić and Željko Mandarić), flute (Marko Zupan) and piano (Oliver Kern, Ida Gamulin and Marijan Đuzel).
As part of the ARDEA Masterclass, a number of concerts will be held by professors and participants.
Furthermore, Čapljina and Ljubuski have a rich gastronomic and tourist offer.
Good traffic connections (bus, train), as well as the vicinity of the motorway and airports (Mostar, Split, Dubrovnik and Sarajevo) make Čapljina and Ljubuški easily accessible to all visitors.
Excellent lecturers, great working conditions, affordable prices of the Masterclass and cheap prices of accommodation, transportation and food are great reasons to join the ARDEA Masterclass.
The number of participants who will work with the professors is limited, which is why you should apply as soon as possible.
Online applications are open until May 1, 2020 and you can apply by filling out the form at this link.
Contact information:
akademija.capljina@tel.net.ba
mobile phone number: ++387 63 321 893
All other information and the application form are available on our website www.akademijacapljina.com.