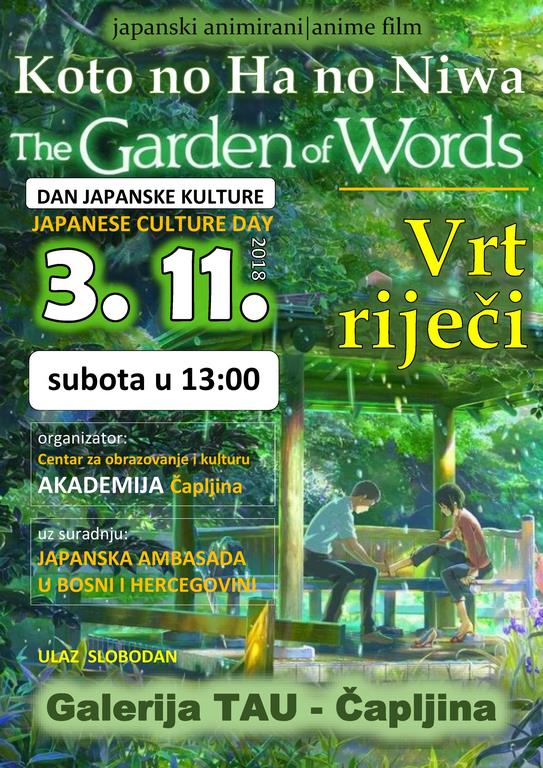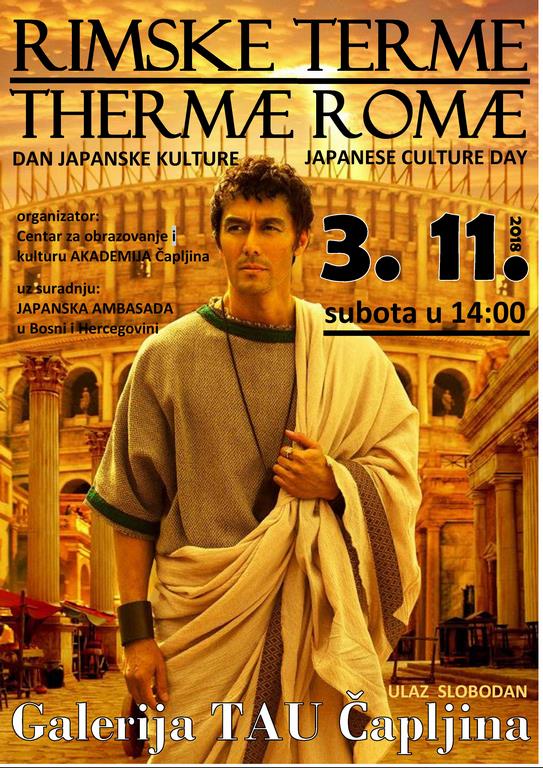 Dan japanske kulture – program
Centar za obrazovanje i kulturu AKADEMIJA Čapljina organizira u subotu, 03. 11. 2018. godine DAN JAPANSKE KULTURE, a to je ujedno i japanski državni praznik.

Želja nam je približiti i bolje upoznati ovu bogatu kulturnu tradiciju.
Taj dan će u 19:00 sati u crkvi sv. Franje Asiškog u Čapljini održati svoj solistički recital violinistica Kaoru Yamamoto, rođena Japanka koja živi i radi u Njemačkoj i svira 1. violinu u Operi u Minhenu.
Osim koncerta, taj dan (03. 11.), u suradnji s Japanskom ambasadom u Bosni i Hercegovini, bit će u Galeriji TAU u Čapljini na Akademiji prikazana i dva japanska filma:
– u 13:00 sati  "Koto no Ha no Niwa" (Garden of Words /Vrt riječi): 46 min. = više za djecu i mlađe (riječ je animirano /anime/ filmu),
– u 14:00 sati  "Thermae Romae" (Rimske terme-kupke): 108 min. = za mlade i odrasle (riječ je o komediji).
Za oba filma, kao i za večernji koncert, ulaz je SLOBODAN.