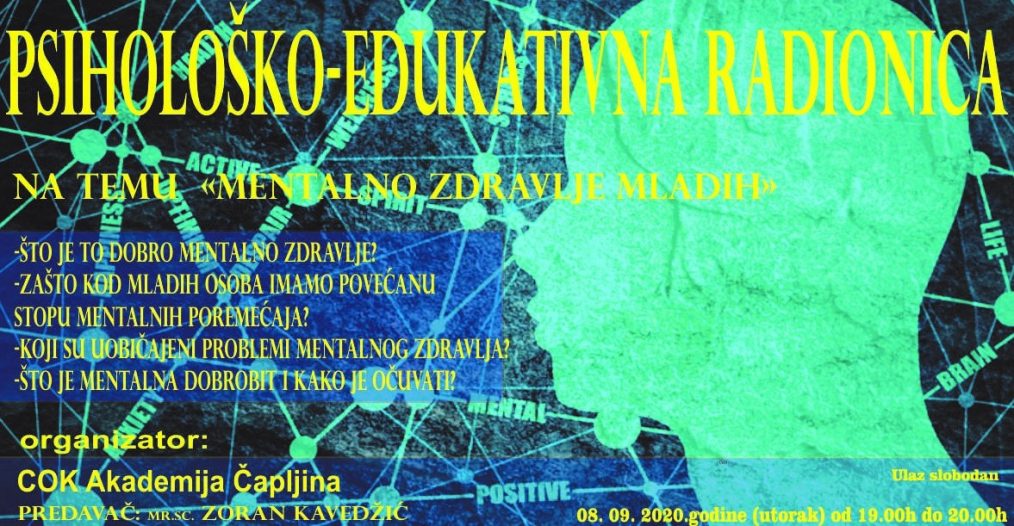 Psihološko-edukativna radionica "Mentalno zdravlje mladih" u prostorijama COK Akademija Čapljina
Početkom rujna u prostorijama Centra za obrazovanje i kulturu Akademija Čapljina održat će se psihološko-edukativna radionica na temu "Mentalno zdravlje mladih" na kojoj će predavač biti mr. sc. Zoran Kavedžić.
Sve brži i zahtjevniji životni tempo utiče na mentalno zdravlje ljudi.
Poimanje (relativne) životne stabilnosti, osjećaja da su stvari pod kontrolom, te suočavanje sa svakodnevnim stvarima u našim životima može biti uzdrman vanjskim faktorima. Primjerice, može to biti gubitak člana uže obitelji, prometna nesreća, prekid, situacija u obitelji (siromaštvo, ovisnosti), kao i trenutna pandemija COVID-19.
Kada je naš uži svijet jednom uzdrman, sama pojava izazvat će i paradigmu osobnih vrijednosti i uvjerenja, što je ispravno a što ne, kao i sustav vrijednosti koje imaju ulogu da čuvaju naše mentalno zdravlje u ravnoteži. Naša reakcija na događanja definirat će našu mentalnu stabilnost koja može biti jaka ili klimava.
U ovoj interaktivnoj psihološkoj radionici, govorit ćemo o:
Što se podrazumijeva pod mentalnim zdravljem?
Što je "dobro" mentalno zdravlje?
Koji su to mentalni problemi odnosno koje riječi nam dolaze na pamet kada razmišljamo o problemima mentalnog zdravlja?
U čemu je razlika između normalnih izazova tinejdžera i mentalnih zdravstvenih problema?
Zašto se primjerice mentalni zdravstveni problemi pojavljuju, osobito u adolescenciji?
Koji su neke od mehanizama psihološke otpornosti?
Radionica će se održati u utorak, 08. 09. 2020. godine od 19:00 do 20:00 sati.
Pozivamo vas da dođete, ulaz je slobodan.